Away from its soaring skyscrapers and urban sprawl, one rural oasis shows how Singapore used to look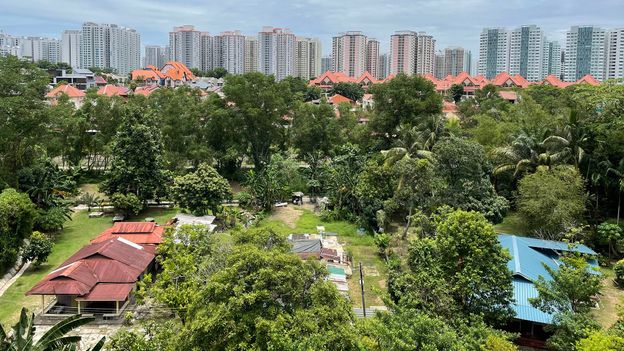 If you turn off the busy Yio Chu Kang road in north-eastern Singapore and follow a long, earthen path that winds and snakes for about 300m, you will find something of a time capsule. Nestled here, on three acres of verdant land, is Kampong Lorong Buangkok, Singapore's last surviving village, where remnants of the 1960s are alive and well. Little resembles modern-day Singapore's panorama of slick skyscrapers. Instead, the cluster of squat bungalows looks like a vintage postcard of the city's yesteryear.
The

kampong

– which means "village" in Malay – is a rural oasis in a city-state synonymous with urban sprawl. Roughly 25 archetypal wooden, single-storey dwellings with tin roofs are spread around a

surau

(small mosque). Forgotten flora that once covered Singapore before all the concrete – like the

ketapang

, a native coastal tree – grow freely. Nearby, power cables hang overhead, a rare sight since most have gone underground in the rest of the city. Elderly residents sit out on their verandas; chickens in their coops cluck endlessly away; and the chorus of chirping crickets and crowing roosters – the sounds of a bygone era – drown out the city's noise pollution and provide a soothing, bucolic soundtrack.