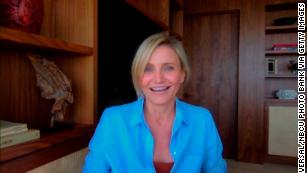 (CNN)It has been seven years since Cameron Diaz appeared on the big screen, but the former Hollywood actress has said she is in no rush to return to acting.
Appearing on US radio show "Quarantined with Bruce" on Thursday to promote her new wine brand, the 48-year-old star revealed that becoming a mother had shifted her priorities.
"Will I ever make a movie again? I'm not looking to, but will I? I don't know. I have no idea. Maybe. Never say never," Diaz said.
"But I couldn't imagine being a mom now where I'm at as a mother, with my child at her first year, to have to be on a movie set that takes 14 hours, 16 hours of my day away from my child."
Diaz married Good Charlotte singer Benji Madden in 2015. The couple have a one-year-old daughter together, called Raddix.
- More -
[url=https://www.cnn.com/2020/01/03/entertainment/cameron-diaz-benji-madden-baby/index.html][/url]