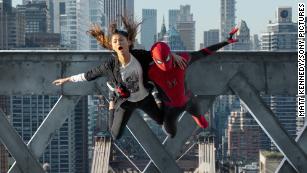 New York (CNN Business)"Spider-Man: No Way Home" — the latest movie in the Marvel franchise — crossed $1 billion at the global box office, the film's studio Sony (SNE) said on Sunday.

The film reached the milestone just 12 days after it was released. Only 2019's "Avengers: Endgame" and "Avengers: Infinity War" reached that mark in less time, at 5 days and 11 days, respectively.

The film has made $1.05 billion worldwide so far.
"No Way Home" — which stars Tom Holland and Zendaya as Peter Parker and MJ as they battle villains from across the Marvel multiverse — is also the only film of the pandemic era to make $1 billion worldwide.
It is the first film to reach $1 billion since "Star Wars: The Rise of Skywalker," which was released in December 2019. Sony also said that "No Way Home" is now the top grossing film of the year worldwide.

The film — which was made by Sony and Disney's Marvel Studios — has had an amazing run at the box office, especially since the world is still in the midst of a pandemic.

- More -