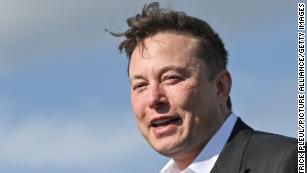 Hong Kong/Seoul (CNN Business)Elon Musk is known for setting the internet ablaze with his cryptic tweets. Now he's doing it in another language.

The Tesla (TSLA) and SpaceX CEO tweeted an ancient Chinese poem Monday night. It's not clear what reference Musk intended, but the tweet, which was titled "Humankind," included a composition known as the "Quatrain of Seven Steps." The poem is famous in China, and refers to a spat between brothers.

It is often attributed to Cao Zhi, son of an ancient Chinese warlord, who was said to live during the Three Kingdoms era (220 to 280 AD). Legend has it that Cao's elder brother, a newly crowned king, was jealous of Cao's talent. Suspecting that his brother was trying to usurp his rule, the king then forced him to write a poem within the amount of time it took to walk just seven steps.
The rhyme translates into English as follows:
"Beanstalks are burned to cook beans
The beans weep in the pot
We grow from the same root
Why should we boil each other with such impatience?"

- More -