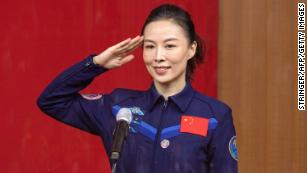 (CNN)China's three-person crew arrived at its new space station Saturday morning -- a major step for the country's young space program, which is rapidly becoming one of the world's most advanced.
The three astronauts had lifted off on the Shenzhou-13 spacecraft just past midnight local time, launched by a Long March 2F rocket from the Jiuquan Satellite Launch Center in the Gobi Desert, located in Inner Mongolia.
China's Shenzhou-13 crewed spaceship has now successfully docked with the radial port of the space station core module Tianhe at 6:56 Beijing Time (6:56 p.m. ET/22:56 GMT) on Saturday, according to the China Manned Space Agency. The spacecraft docked at Tiangong Space Station about six and a half hours after launch. The team will live and work at the station for 183 days, or just about six months -- the country's longest mission yet. (Tiangong means Heavenly Palace.)
The crew includes Zhai Zhigang, Wang Yaping and Ye Guanfu, who will spend the time testing the station's technology and conducting spacewalks.
Zhai, the mission commander, performed China's first spacewalk in 2008 and has been awarded the honorary title of "Space Hero" by the government.
This will be Ye's first mission in space; he is currently a second-level astronaut in the military's Astronaut Brigade.
Wang, who also received an honorary title after participating in a 2013 mission, is China's first female astronaut on board the space station -- and will be the first Chinese woman to conduct a spacewalk.
- More -