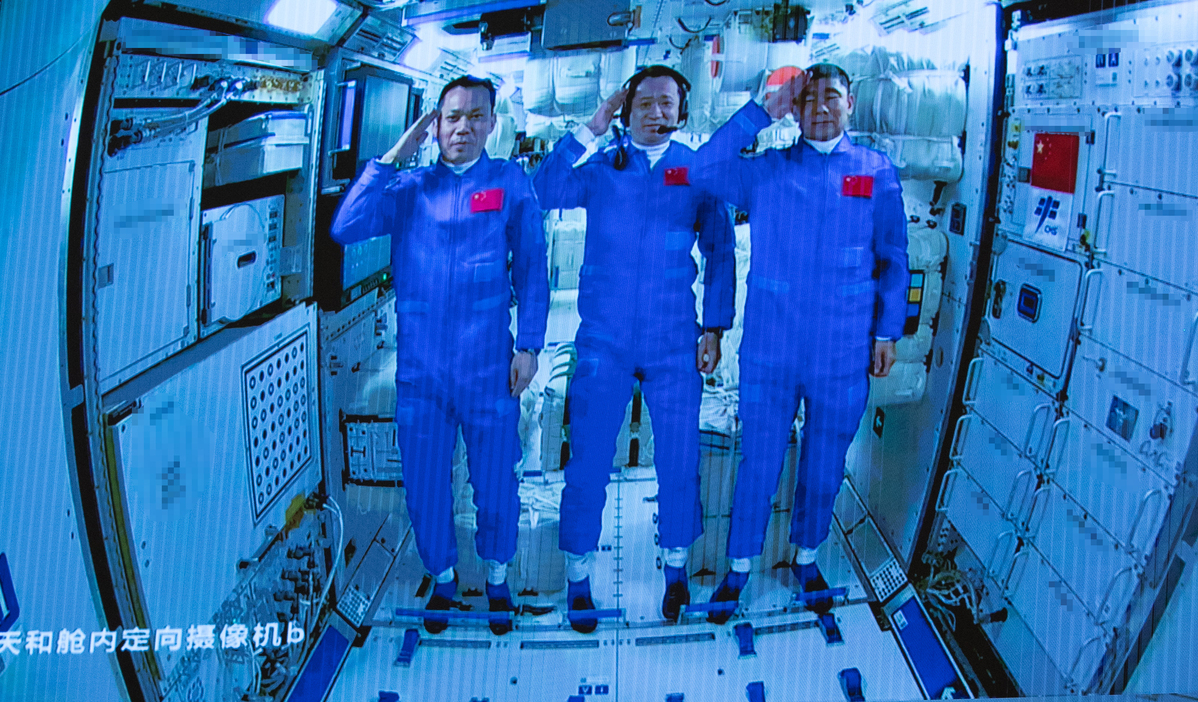 Astronauts salute the Chinese people after they enter Tianhe, the core module of the Chinese space station, on Thursday. After the Shenzhou XII spacecraft successfully completed a fast automated rendezvous and docking with the orbiting Tianhe module, the crew entered the orbital capsule. JIN LIWANG/XINHUA
Core module's first occupants carrying out tasks as pioneering mission begins
Three Chinese astronauts have entered the core module of China's permanent space station to embark on their three-month mission, becoming the module's first occupants and pioneers in one of the nation's grandest space endeavors.
Major General Nie Haisheng, Major General Liu Boming and Senior Colonel Tang Hongbo floated into the core module, named Tianhe, or Harmony of Heavens, at 6:48 pm on Thursday, after their Shenzhou XII spaceship linked with the module in a low-Earth orbit about 390 kilometers above the Earth at 3:54 pm.
They have begun to carry out their tasks inside the craft, which is the first and central section of China's space station, called Tiangong, or Heavenly Palace.
The all-male crew, from the People's Liberation Army Astronaut Division, was launched by a 20-story-tall Long March 2F carrier rocket, which blasted off at 9:22 am at the Jiuquan Satellite Launch Center in northwestern China's Gobi Desert.
After about 10 minutes, the vehicle put the 8-metric-ton spaceship into the orbit to rendezvous and dock with Tianhe.