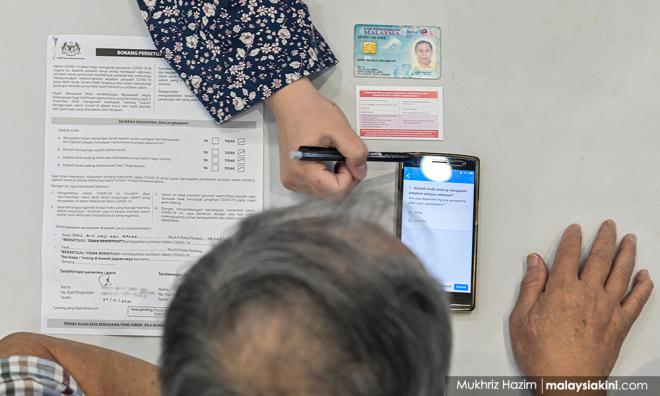 Dr Raman Letchumanan:

Everybody cries vaccination, vaccination, vaccination. Health director-general (DG) Dr Noor Hisham Abdullah, of all persons, makes the same rallying call.
Who are you talking to? Yet when a question is asked, you sidestepped it.
Is your job only to announce the severity of the variants? Why not just leave it to the Institute of Medical Research experts who do the identification of the variants. They will do a better job of clarifying to the public.
And why is Science, Technology and Innovation Minister Khairy Jamaluddin handling the vaccination process? Is he a medical expert or a scientist? He is just a politician, that too doing a lousy job.
The Malaysian Medical Association (MMA) even blasted him, telling him that 8,000 general practitioners are ready to vaccinate and have been waiting since March. Why is Khairy dealing with doctors, isn't that your job or that of the Health Ministry?
Now you are even scared to comment on the vaccination process, despite that you are the Health DG. Khairy is only interested in more mega vaccination centres even though that approach has spectacularly failed.
He is also obsessed with the RM70 million sophisticated IT systems that failed the moment it handled just a million cases. Now appointments are being screwed up, people offered venues in faraway places.
Is Khairy going to have a say on when Duopharma will get approval for its Sputnik vaccine which has got approval as its supplier here? Is there going to be a contest between Duopharma and Pharmaniaga on who controls the vaccine supply chain while all of us are kept waiting? Is the NPRA (National Pharmaceutical Regulatory Agency) under the Health Ministry or the Science, Technology and Innovation Ministry?
We just witnessed the Fire and Rescue Department and a minister proudly spraying disinfectants all over, with money literally down the drain. Didn't the Health Ministry advise them, does it take outsiders to point out their foolishness?
Incompetence is everywhere but letting different politicians without expertise or not within their portfolio managing Covid-19 is really messing things up. Is anybody in Malaysia in charge during this Covid-19 pandemic?
Yet, you remind us every day to get vaccinated. Do you expect vaccines to fall from the sky?
The way things are going, the community will get herd immunity from widespread infections rather than from vaccines. Of course, at a cost of heavy casualty that could be prevented if you people act collectively with some common sense.
But then at the right time in the future, you all will claim unashamedly that the Perikatan Nasional (PN) government has singlehandedly brought the pandemic under control.

- More -