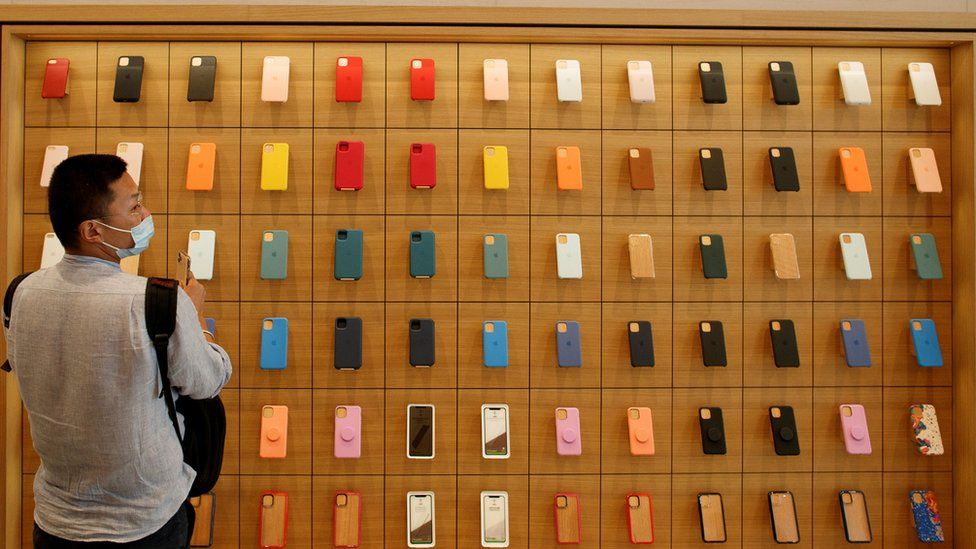 A surge in iPhone sales, especially in China, has led to a doubling of profits at Apple since the start of the pandemic.
The results reflected "optimism" about the days ahead, Apple's boss said.
Rival tech firm Facebook also reported bumper revenues and profits.
But the social media giant warned Apple's latest software release could undermine its prospects later in the year.
Apple has seen sales of its phones, apps and other devices rise throughout the pandemic, as consumers spent more time working, shopping and seeking entertainment online.
Customers continued to upgrade to Apple's new 5G phones which were rolled out last year, and also bought Mac computers and iPads to tackle working and studying from home, the firm said.
Fitness and music apps also saw a lockdown boost.
Sales to China nearly doubled, leading to overall revenues for the first three months of this year of $89.6bn (£64.2bn), more than 50% up compared to a year earlier.
Profit was $23.6bn, up from $11.3bn for the same period last year.
"This quarter reflects both the enduring ways our products have helped our users meet this moment in their own lives, as well as the optimism consumers seem to feel about better days ahead for all of us," said chief executive Tim Cook.
- More -