06-02-2021, 08:55 AM (This post was last modified: 06-02-2021, 08:56 AM by superadmin.)
Seeking a deeper connection to the world, Angela Maxwell set off to walk it alone. Six years and 20,000 miles later, she brought that connection home.
By Florian Sturm
28 May 2021
"Why?" It's a simple question, and one that people ask Angela Maxwell frequently. Yet until recently, the American struggled to answer why, exactly, she upended a perfectly fine life in pursuit of a big dream. But for Maxwell, "why" is a question worth answering. After all, she embarked on a journey that very few people attempt: in 2013, she decided to walk around the world – alone.
A solo walk of this magnitude wasn't something Maxwell had planned. In fact, she left only nine months after having overheard a conversation in her art class about a man who supposedly walked around the world.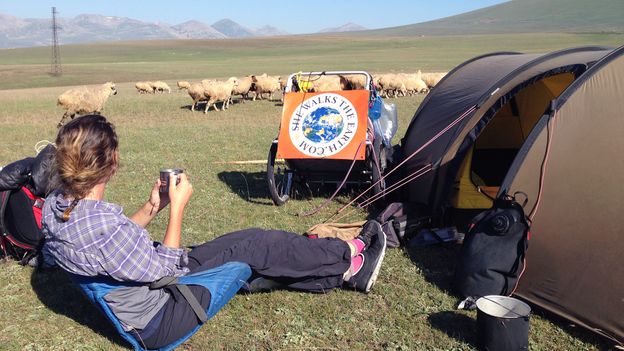 Maxwell's journey did not sprout from a place of loss, defeat or personal crisis. When she decided to embark on a long-distance walk, she was in her early 30s, ran a successful business and was in a relationship. "I thought I was happy," she said, "but in retrospect, I realised that I was searching for more… for a deeper connection with nature and people – by living on less and connecting with the world around me."
- More -